KICK- The INXS Experience
KICK- The INXS Experience is the USA's most captivating salute and tribute to the internationally acclaimed rock band, INXS

KICK-The INXS Experience is a unique blend of incredibly talented musicians who bring the highest level of musicianship to the audience while showing a true passion for the music of INXS- consistently causing the spontaneous eruption of a dekadance-rock party!

Vocalist, guitarist, and singer-songwriter, Cory Massi, has long held a respect and admiration for the late great Michael Hutchence; seeing INXS perform in Philadelphia in 1988 and 1989 served more than a young man's yearning to scour the beauties in attendance or to drink in the sobering decadence. These were enlightening moments; Michael Hutchence embodied all that a true entertainer strives to be. He was a natural, nearly impossible to become. That caliber of presence either sends your performer-soul to whimpering or it inspires you to soar.

Cory auditioned for the show, Rockstar: INXS, in 2004; it was both an honor and a humbling experience for him. He fully appreciated the competition, American Idol contestant Chris Daughtry for one, but more so enjoyed the comradery of his fellow hopefuls. It was clear to him that every person at CBGB's that day wanted to be a part of reviving INXS. Ultimately, as you are probably aware, the role was awarded to JD Fortune, who did a fine job during his tenure as the new front man for the band. The next time you see Cory, you should ask him to tell you the story of meeting Little Steven Van Zandt that afternoon- it's a funny story and so befitting the end of a great trip; Cory loves to recount the tale and will likely whip out the pictures to illustrate.
 
In July of 2013, while attending an Aerosmith tribute show, Draw the Line, at the House of Blues in Myrtle Beach, it struck him that there was no reason he couldn't be on that stage in tribute to Michael Hutchence and INXS, an idea he had been tossing around for nearly a decade. Cory had watched the emergence of the tribute scene during that time and after a conversation or two with leading tribute circuit friends, Paul Sinclair of "Get the Led Out" and Rick Murphy of "Hollywood Nights" and the various life-long friends who backed both these great singers, he found himself inspired to bring his idea to fruition.

Upon returning home in early September, Cory found himself questioning whether or not he could find the caliber of player he was looking for in the small southern town of Greenville, SC- where the preferred genre of music leans heavily to southern rock, the blues, and country. He ran the idea by his friend and fellow Sweet Crude bandmate, Don Leslie, who was, at first, a bit taken aback. Don is an extremely talented bass player whose tastes and past experience reflect the heavier side of rock-n-roll.

It wasn't long though before Cory was able to enlist his help in searching for players. And, much to their surprise, it was almost magical the ease with which the band came together. In just 10 short months, Cory found himself on that very stage, at the House of Blues, performing with his band.

KICK- The INXS Experience has beautifully managed to capture the spirit of INXS in both its sound and live performance. The focus has been on faithfully recreating the music in its most powerful sense, an  in-the-pocket bottom end from bass player, Don Leslie and drummer, Gary Forbes, a brilliant combination of piano and synth by Johnny Cassidy; the signature guitar tones produced by guitarists, Todd King and Jason Taylor; and saxophone by area favorite, Tom Wheat  and the spot-on lead vocals by Cory Massi, all lend to a powerful high-energy show that is guaranteed to have the entire venue singing and dancing to every song- all night long!
 
The band hears it, time and time again: 

"This was like seeing INXS all over again, I'm their biggest fan."
"That was such an awesome surprise; I'd almost forgotten how much I love INXS!"
"I came thinking I would only know a couple of songs, but I knew every single one- and the words, too."
"Cory Massi is Michael Hutchence 2.0, fabulous!"

 "KICK- The INXS Experience will take you back. It will reignite your passion for INXS. It will introduce you to music that is still as fresh today as the day it was written; Original Sin to Elegantly Wasted and everything in between!"

So, slide over here... and give me a moment.
 
Cory Massi- Lead Vocals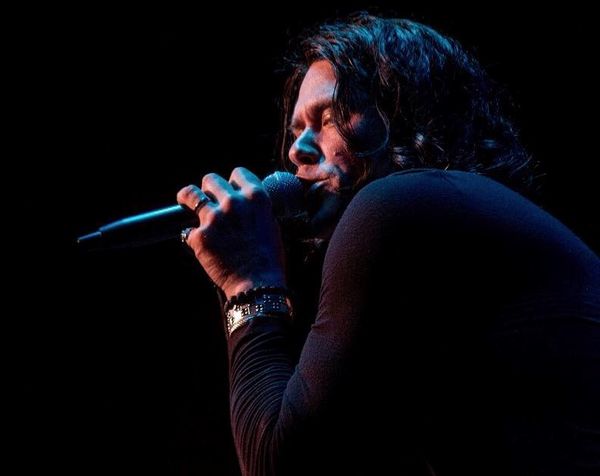 Cory's eldest sister, Michelle, turned him on at the age of 6, to the likes of Led Zeppelin, Aerosmith, Kiss, Alice Cooper, Cheap Trick and Peter Frampton. He knew from that moment that he wanted to ROCK OUT!

At 13, he began making a lot of racket playing in garage bands, talent shows, and at friend's parties. It wasn't long before he, and his trusty fake ID, made his way into the booming South Jersey/Philadelphia club scene to watch and learn from his home grown heroes- Cinderella, Britny Fox, Heavens Edge, The Hooters, Tangier, Robert Hazard & The Heroes, The A's and Tommy Conwell & The Young Rumblers.

At 20, because his fledgling talents were garnering some local attention, he found himself recording the full length, self-titled LP "Razamanaz" with Michael Kelly Smith (formerly of Britny Fox/Cinderella) as the lead vocalist and rhythm guitarist. In 1997, LOW was formed with Cory at the front  and featured Doro Pesche members- Nick Douglas, Johnny Dee, and Mario Parrillo. The bands' first EP, the self-titled "Low," was receiving some airplay and gathering quite a bit of steam before being halted by the heartbreaking and untimely death of Mario. Cory continued to hone his skills, spanning hundreds of shows, along the eastern seaboard- from NY to FL.

In 2004, Cory auditioned at the infamous CBGB's, NYC, for the upcoming first season of the reality show Rock Star:INXS. While JD Fortune ultimately gained the spot to carry on as the singer for INXS, Cory continued to keep the music, and the talent of Michael Hutchence and INXS, alive by performing their music, along with a classic catalog, with the various projects he formed in the decade since then. 



Cory's Discography:
Razamanaz  Perris Records, 2003
Hollywood Hairspray  Perris Records, 2002
The Great Jones  Mad Apple/Virgin Records, 2001
Dressed to Kill  Rock Dreams Records, 1995, 1997
We Can Almost Taste It   Big Pop Records, 1997
 
Don Leslie- Bass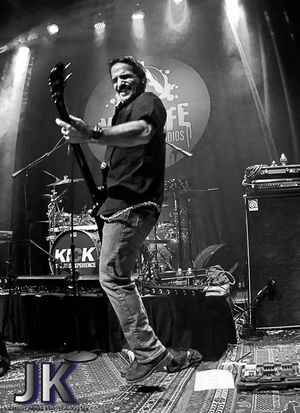 Born in New York, New York, Don was raised just outside of New Haven, Connecticut. His early musical influences came from bands like Pink Floyd, Led Zeppelin, Earth, Wind, & Fire, and KISS. Although he had an early interest in drums, he picked up his first bass guitar at the age of 13 mostly due to the fact that the band up the street needed a bass player, not a drummer. 

Don's playing style has been referred to as thundering, progressive, percussive, and "deep in the pocket" while being unable to stand still on stage. He is a true entertainer who wants nothing more than the audience's enjoyment. Don and Cory had been playing together in various cover bands in South Carolina when Cory broached the idea of forming KICK, a salute to the internationally acclaimed band, INXS. The project came together so seamlessly- the magic was instantly identifiable!

Don Leslie is endorsed by Spector Bass & GHS Strings
Gary Forbes- Drums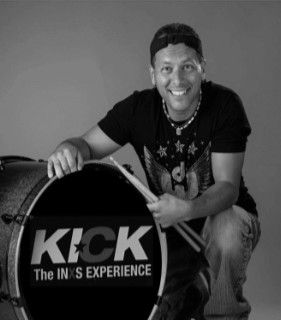 Gary grew up in East Haven CT, just outside New
Haven, and has been drumming on and off since the
age of 5.

Following his Dad's footsteps, Gary has
played in numerous cover bands and has had the
privilege of sharing the stage with Blue Oyster Cult,
Ratt, Twisted Sister, Judas Priest, Vince Neil,
Sebastian Bach, Winger. Gary also had the Honor of
jamming with Michael Sweet,(Stryper) Joe Lynn
Turner,(Deep Purple, Rainbow) and Nickelback. Gary's first
experience in the tribute band genre was playing
with Draw The Line (Aerosmith Tribute).

Growing up one town over from Kick bassist, Don Leslie, Gary and
Don played in a couple bands together back home. Gary said " I'm excited to be playing with Don again, He has been considered one of the Best bass players in our area and I am honored that he kept me on his radar as one of his go to drummers"
        Gary is endorsed by MEE Pro-Audio!
Todd King- Lead and Rhythm Guitar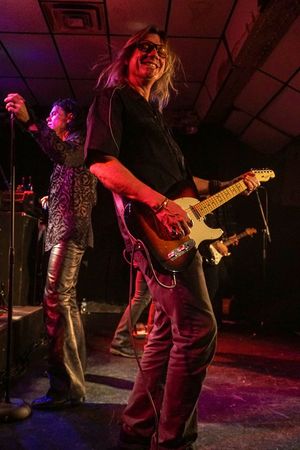 Todd has been around the block more than a few times since he cut his first teeth, at 17 years old, with Nationwide, a local house band that featured many seasoned musicians over his two year stint.

Thereafter, he honed his skills as the lead guitar player and vocalist with Purin Heart who opened for headlining Christian acts such as David and the Giants, Whitecross, and Birthright. Purin Heart lost their guitarist to Birthright, who was so duly impressed with Todd's personal style, they nabbed him and went on to open for national acts like Bride, Precious Death, and Motley Crue.

During a well earned break from touring, Todd settled in as a guitar instructor and kept his chops fresh by performing with his church band. He later returned to the stage with Artimus Pyle of Lynyrd Skynyrd, Nashville's own RJ Galloway, recording artist Marti B, blues virtuoso Rickey Godfrey, and various local rock and R & B bands, including Wine Down, playing across the southeast. Todd was invited to audition for KICK- The INXS Experience and it was apparent that the chemistry between the players was instant.

 
Jason Taylor- Lead and Rhythm Guitar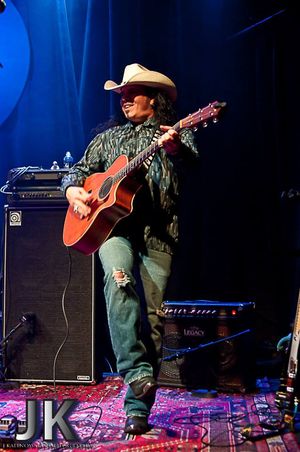 Jason's love for music was instilled by his sister, Tammy, at a very early age. While his peers listened to the music of the day, Jason was donning old-school headphones that boomed with classic artists such as Led Zeppelin, AC/DC, Foreigner, Journey, Eric Clapton, Jimi Hendrix, Stevie Ray Vaughn, and many others. His brother, Steve, is often cited as the catalyst for Jason's escalation to becoming an entertainer. They formed his first band, The Storm, at the tender age of 14, using the accoustic guitar he received on his 10th birthday and he has never looked back! 

Throughout the years, Jason has performed and worked with numerous artists including Artimus Pyle of Lynyrd Skynyrd, recording artists RJ Galloway, Marti B, and Nashville's own blues virtuoso- Rickey Godfrey. Jason and Todd have shared a brotherhood and musical bond for nearly 20 years, playing together in various projects across different genres, and have found their places in Kick- The INXS Experience.
Johnny Cassidy- Keyboards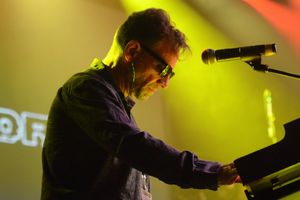 Johnny was born outside of Philadelphia, PA and has lived in Delaware since he was a young child.  
He began his musical career playing the drums at thirteen and became proficient on guitar, piano, and synths, studying music theory and audio engineering, all before his seventeenth birthday! 

Johnny's influences include a diverse selection of sundry rock, pop, R&B, classical, and some jazz from the 1960s through the early 1980s; George Harrison, Alan Parsons, Kansas, Gary Wright, Donna Summer, Kiki Dee, Elton John, and Maurice Ravel. He cites his parent's eclectic selection of vinyl records which were always spinning in his childhood home as one of the main catalysts for his career. Ironically, INXS' 1985 release of "Listen Like Thieves" was on constant replay in the family car. Little did he know...

One of his first musical gigs was at the tender age of fifteen, playing guitar for a classic rock band on a little league baseball field in New Castle, DE. At that time, he also worked in a movie theater and found himself enthralled with film soundtracks and instrumental scores. 

His friends and colleagues often refer to him as a "genius" and a "prodigy." We agree! Aside from sharing his many talents with KICK- The INXS Experience, Johnny also plays with "Kategory 5" and the tribute band, "Rewind to Vinyl"    

You can find more of Johnny's music here:  Johnny Cassidy Music